Citru-AAKGx7
Our best seller pre-workout Nitrix Oxide is being upgraded.
Faster absorbing ingredients combined with ActiGin™, a new patented ingredient that is here to bring the new era in endurance & performace sports nutrition.
You ask for more… we give even more than you ask!

CLINICALLY STUDIED
In multiple clinical studies published in highly respected peer-reviewed scientific journal (PLOS One), ActiGin® has demonstrated to support faster recovery by reducing inflammation (MDA, IL-6, CK) generated during exercise.
ActiGin® has also demonstrated to increase energy levels by increasing citrate synthase level (47%) in blood serum. Citrate synthase exists in nearly all living cells and stands as a pace-making enzyme in the first step of the citric acid cycle (or Krebs cycle) that produces ATP this is the primary energy carrier in all cells that release energy when it is broken down.
Muscles contracting during exercise requires glycogen as fuel. ActiGin® has demonstrated to increase the glycogen synthesis in muscle by preserving the muscle integrity so there is a continuous influx of glucose into muscles to support the continuous synthesis of glycogen.
ActiGin® is the only natural phyto compound that has demonstrated to have this muscle membrane peroxidation stability technology. Post-exercise glycogen increase to 370% is the major reason why ActiGin® is able to support faster recovery and increasing endurance in high-intensity exercise (80% VO2max) and physical activities.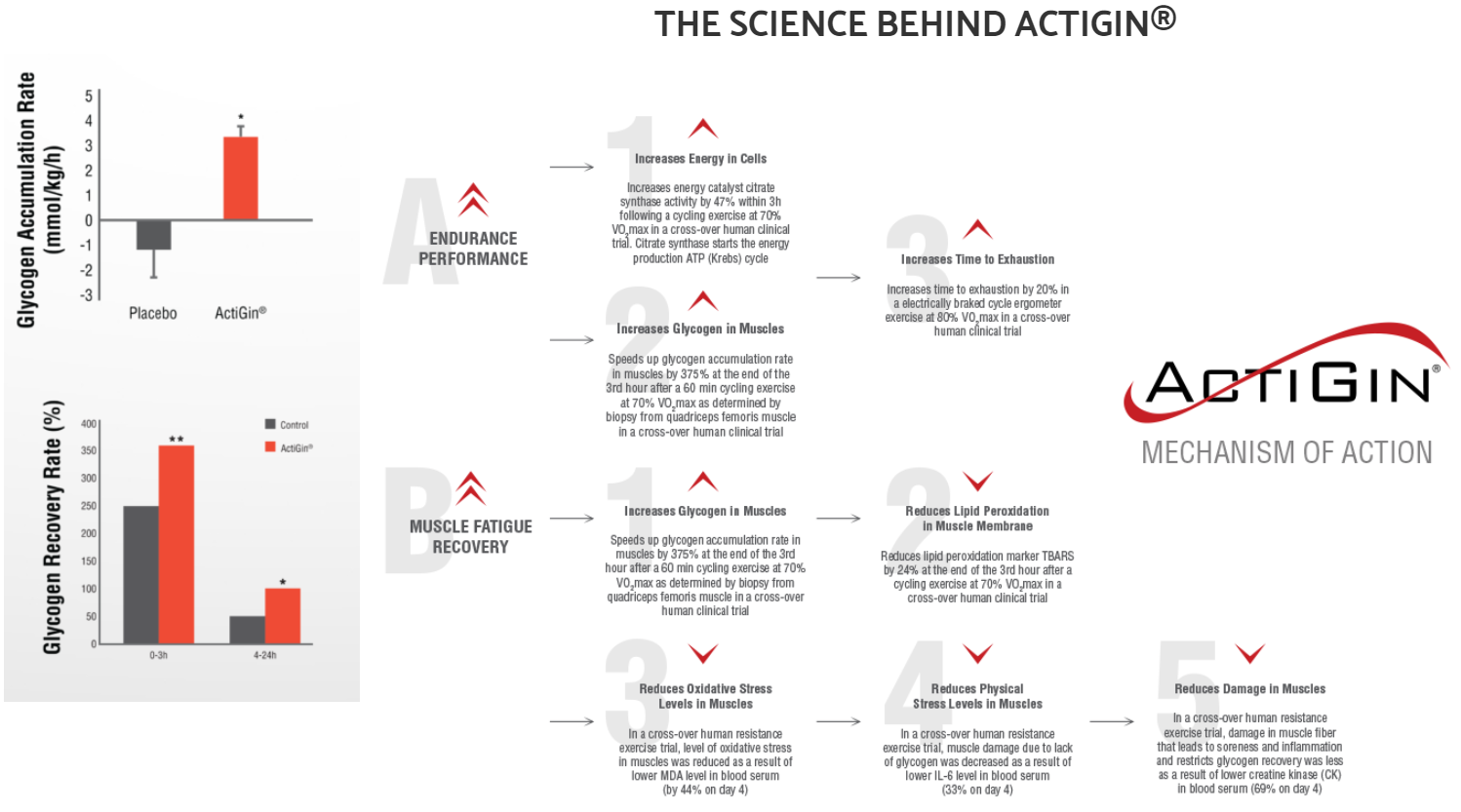 Maca 20:1 Extract – Organic, Superior Quality, Peruvian origin
Loyal to our mission, we bring the highest quality and concentration of herbs to our athletes.
20:1 concentrated extract of superior quality Peruvian Maca, goes beyond any expectation.
Activated with AstraGin™, this formula will be 340% more effective than our Maca 10:1 extract.

PROMOTES ABSORPTION, INTESTINAL WALL REGENERATION, MICROBIOTA POPULATION, AND IMMUNE FUNCTIONS
AstraGin® is NuLiv Science's proprietary gut nutraceutical composed of highly purified and fractionated Panax notoginsengand Astragalus membranaceus produced by a proprietary pharmaceutical extraction and processing technology.
AstraGin® has shown in 16 in-vitro and 8 in-vivo studies that are published in the Journal of Agricultural and Food Chemistry, Molecular Nutrition & Food Research and Scientific Reports to:
Increase the absorption of peptides, amino acids, fatty acids, vitamins, and phytonutrients by up-regulating the absorption specific mRNA and transporters, such as SGLT1, CAT1, and GLUT4.*
Repair ulcerated and damaged intestinal walls and reduce intestinal submucosa inflammation.* AstraGin® was shown in a hematoxylin-eosin stain and an MPO assay to reduce ulceration and unclear surfaces of intestinal epithelial cells and sub-mucosal edema in TNBS-induced colitis rats.
May help maintain a healthy microbiota population by mending ulcerated and damaged intestinal epithelial cell surfaces for the microbiota to populate.*
May help support stronger immune functions by mending ulcerated epithelial cells and reducing the inflammation in intestinal mucosal lamina propria that hosts the gut-associated lymphoid tissue (GALT1), T cells, plasma cells, mast cells, dendritic cells, and macrophages.